Advanced Applicators is a wholly New Zealand owned company specialising in the design and installation of Passive Fire Protection systems and products. The company was formed in 2006 by Jeff and Bruce Mills. Jeff remains the Managing Director and Bruce is enjoying a well-deserved retirement.
We have links to multiple suppliers in the industry, meaning we can source and install systems specific to your project requirements. Our goal is to resolve our client's Fire Protection requirements in the most cost-effective way that meets or exceeds the stated fire rating.
 Company Culture
At Advanced Applicators we strive to operate via our Core Values and every process we have in place can be referred to them. Our Core Values are a key element of our company culture, fostering a positive working environment and setting the expectation for all our employees. We have them on prominent display in our offices and on all our larger projects.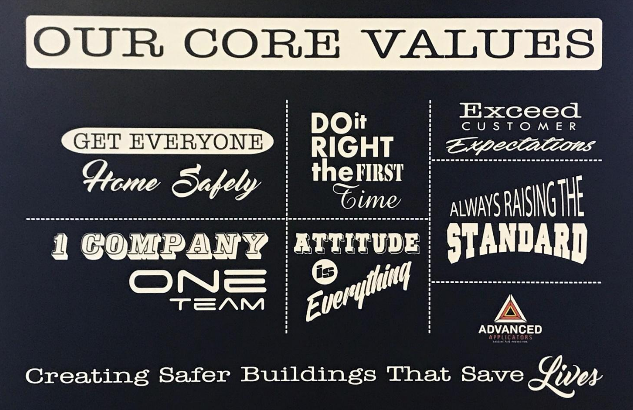 Our staff are our greatest asset; we believe in having a good time at work, investing in development and giving everyone the opportunity to become the best person they can be. We look for hidden potential, recognising people's strengths and offer opportunities for our team to progress into other areas of the business that suit their skillset best.
Advanced Applicators believe in a society where all are paid fairly for the work they do. We believed in the living wage before the phrase was coined and have paid all new employees above that rate since the business started. We continue to follow that trend to this day all new employees starting on approximately 7% more per hour than the NZ living wage.

Company Initiatives
Monthly toolbox meetings: Our team comes together once a month for a valuable chance to catch up with what's going on around the sites, receive updates on the business and socialize together, including pub quizzes and team challenges. We have also used these meetings to raise funds for charity, including a Blue Do for the Prostate Cancer Foundation, and raising funds for a teaching trip to the pacific islands

Health and Wellbeing: All team members have access to EAP (Employment Assistance Programme) services as they require it.

 

International employees: We 

have had employees from all over the world and currently have a good number of permanent immigrant workers. We pride ourselves on being a diverse workforce and thoroughlyvalue our international staff.
Employment Opportunities
We are always keen to hear from people who would like to work for us. As we are working in a relatively niche area of the construction industry, we do find it hard to employ people that are trained or have experience in Passive Fire. With this being the case we provide all necessary training before we send you out onto sites.
If you are interested in becoming part of the team, the first step is to send a current CV to our General Manager, Fleur at fleur@advancedapplicators.co.nz
If you have any prior experience in Passive Fire we would like to talk to you about positions we might be looking for.
Our Management Team
Jeff Mills: Founder
Sadly Jeff passed away on the 29th of September 2021 after a brave and lengthy battle with cancer. Jeff founded the business in 2002 and was a pioneer of the Passive Fire Industry in New Zealand. Jeff's knowledge was unparalleled from a practical point of view and he built a team that is still able to provide a solution for the most complex situations that arise daily.
In the years before Jeff became ill, he had his wife Fleur join him in the business and she is happily carrying on as Managing Director to ensure Jeff's legacy lives on.
Fleur Mills: Managing Director
Mobile: 021 939 171
Email: fleur@advancedapplicators.co.nz
Fleur has recently moved into the role of Managing Director. Her background is varied but she has spent a good portion of her working life in leadership roles. Her passion lies in creating a positive team culture and developing a motivated team that works together for a common goal.  Fleur says "The highly skilled team we have at Advanced Applicators is our greatest asset".
Outside of work her life is plentiful with 3 teenage boys who like to keep her entertained. She also loves spending time with friends and her extended family.
Vanessa Kelland: General Manager
Mobile: 021 913 502
Email: vanessa@advancedapplicators.co.nz
Vanessa's main objective is to ensure our clients can trust that Advanced Applicators truly are the leaders in Passive Fire Protection: that we deliver, exceed their expectations, and most importantly, that they receive compliance on time and without hassle.
Vanessa works closely with our Managing Director throughout the tendering and methodology process and her attention to detail ensures that she delivers.
In her spare time, she enjoys going to the gym and is currently studying part-time towards a Diploma in Construction Management with strands in Quantity Surveying.
Brent Skinner: Project Manager
Mobile: 021 945 216
Email: brent@advancedapplicators.co.nz
Brent joined us about 6 years ago having a complete change from the printing industry which he had worked in his whole career. It was evident early on that his skills with people and his positive, can-do attitude would make him an exceptional Project Manager, which he certainly is. Nothing is a problem for Brent, and he hits the right note with both our people and the companies that he works with.
Occasionally Brent relives his glory days on the softball pitch at the weekends as well as spending time with his family. He always has the next fishing trip planned although I don't know that we have ever seen a picture of him holding a fish!
Sam Smith: Protective Coatings Manager
Mobile: 022 094 2462
Email: sam@advancedapplicators.co.nz
Sam has been around Passive Fire for half of his life, in fact he was the first person Jeff ever employed! He still finds joy in what he does, and we wouldn't be without his cheeky grin and constant positivity.
Sam is another success story in terms of coming off the tools and performing a crucial role in running our Protective Coatings division. He was working in intumescent paint side of the business for about 6 years and showed a lot of potential in the more technical aspects, so he is now responsible for the take offs, pricing, scheduling and manning of the paint crew.
Sue-Ellen Vaatuitui: Office & QA Manager
Mobile: 027 305 0309
Email: office@advancedapplicators.co.nz
Sue-Ellen is always busy! Inside and outside of work she is a dynamo. There really is no title to describe her as she has her fingers in so many pies and multitasking is her middle name. As well as the day-to-day activities of running the financials in a sizeable business, Sue-Ellen has also been championing a new computerised QA system and she often spends hours at home in the evenings working on extra tasks.
While work is busy enough, she also has 3 young and busy children … busy, busy, busy! Did I mention she also plays A Grade netball?
James Hawkins: Account Manager
Mobile: 021 222 0194
Email: james@advancedapplicators.co.nz
James started with Advanced Applicators as an Installer and worked onsite at the University for 2 and a half years. He quickly became a Supervisor and was looking forward to Project Management when he was tapped on the shoulder for Sales. His nature and attitude made him a perfect choice for this role.
James works on quoting jobs, pursuing future work in the Christchurch and Auckland regions and supporting the rest of the sales team where needed.
In his spare time he enjoys golf and supporting the Warriors. James and his wife are also expecting their first child. Exciting times ahead.